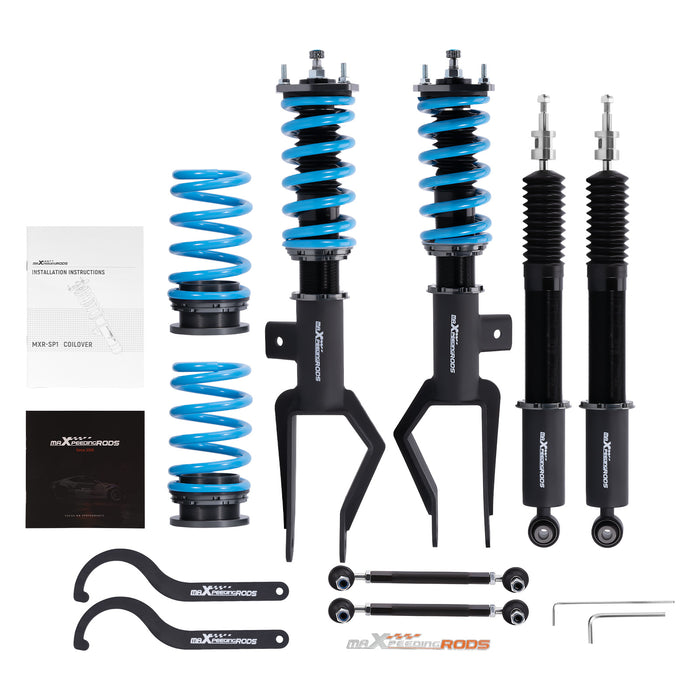 24 Ways Adjustable Damper Coilover Suspension Strut compatible for Tesla model 3 2017+ AWD
Original price
$532.00
-
Original price
$532.00
Compatible Vehicles
Compatible for Tesla model 3 2017+ AWD / dual motor
Technical Specs
Front: Rubber top mount
Rear: Split
Damping: 24 levels rebound damping adjustable
Spring rate Front: 10kg/mm (560 lbs/in)
Spring rate Rear: 10kg/mm (560 lbs/in)
Adjustable height: lowering 0~-30mm
Shock type: Twin tube
Spring Preload: 7-10 mm
Color: Black body with blue spring
Dimension
Package dimension : 70*50*19
Weight: 35240g

Feature
1. Lowered height adjustment from 1" - 3" (depends on vehicle models)which allow lower center of gravity and also add a more aggressive stance 
2. Adjustable pre-load spring tension to reduce the shaking motion to a certain extent
3. Adjustable Camber Plate and Pillow ball top mount for sharpening steering response.( for some models)
4. 24 levels of adjustable damper -- This allows you the ability to perfectly dial in your coilovers system. For a nice comfortable driving, set damping to full soft. For more spirited driving, set it to 16 clicks. For occasional track days, set it to full stiff.
5. CNC machined Aluminum  top mounts and lockers-- - excellent strength, and save weight
6. Heavy Duty Steel Lower Mounts--- Highly Durable & Reliable
7. Upgraded spring --- more than 600,000 times continuously test to assure it's high tensile strength.
8. All inserts come with fitted long rubber boots--- To protect the damper more well and be durable.
9. With better damping setting,you will get better performance and comfort at the same time.
10. Twin-Tube structure ---provides excellent handling & control characteristics for most driving conditions
11. Corrosion Finish - Anodized Aluminum And Powder Coated Carbon Steel Parts
12. Test for the best---Every parts were tested on our professional machine before assembled and tested by our professional racers on road.
13. Clean room assembled---maintain higher level of accuracy and reliability.
14. Upgraded damper oil---make damping more stable and smooth in wide temperature range.
Package Include
Complete coilovers assembly 2 front and 2 rear
2 sway bar links
A pair wrench for height adjustment
A pair hex wrench
Attention
* Instruction included; Professional installation & alignment suggested.
* Please check our store for other auto parts you may be interested in.