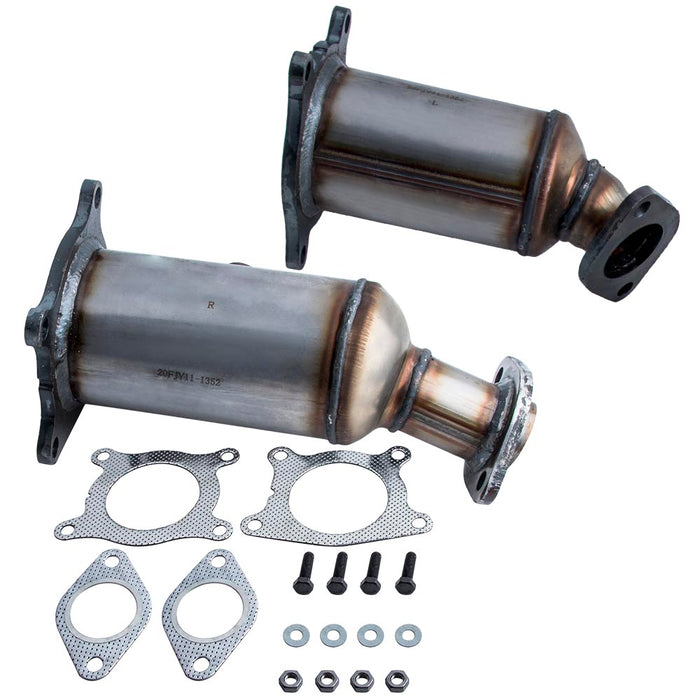 Catalytic Converter Front and Rear Compatible for Ford Edge 3.5 L Bank 1 and 2 2007 - 2010
Original price
$227.70
-
Original price
$227.70
Application

Compatible for Compatible ford£º
Compatible for ford Edge 3.5L 2007-2010 
Compatible for ford Flex 3.5L 2009-2010
Compatible for ford Fusion 3.5L 2010-2012 
Compatible for ford Taurus 3.5L 2008-2012
Compatible for ford Taurus X 3.5L 2008-2009

Compatible for Lincoln£º
Compatible for Lincoln MKS 3.7L 2009-2010
Compatible for Lincoln MKX 3.5L 2007-2010
Compatible for Lincoln MKZ 3.5L 2007-2010 

Compatible for Mazda£º
Compatible for Mazda 6 V6 3.7L 2009-2013 
Compatible for Mazda CX-9 3.5L 2007
Compatible for Mazda CX-9 3.7L 2008-2015
Compatible for Mercury Sable 3.5L 2008-2009 
Notice£º
Catalytic Converters are not Compatible for sale in California.

*This part can't be used for California registered vehicles. Please double confirm the compatibility as well as the OEM number before purchasing, thanks.
Features:
? 100% Brand new
? 1 year warranty for any manufacture defect
? Great emissions control device with stable Performance, reliable quality and long service life
? Fully tested under extreme condition Compatible for heat resisitance and long-life use
Specification
Placement
on
vehicle£º
  Rear Right  (Bank 1) ; Front Left (Bank 2)
This listing is Compatible for two parts Front and Rear
Both of these parts bolt onto the engine on the radiator and firewall side in the front via four nuts/bolts/washers and in the rear they both bolt onto the y-pipe.
Package Included: 
Catalytic Converter 

Bolts

Gasket
?Notice:

? Due to the increased emissions standards, this converter is NOT legal for use in California.
? Quality fully guaranteed and professional installation recommended
? Please double confirm the compatibility as well as the OEM number before purchasing