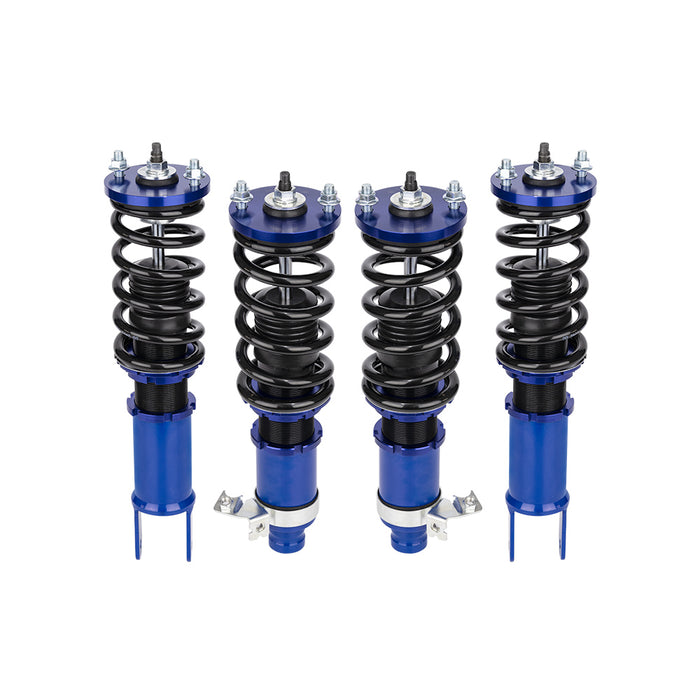 Coilover Kit Front and Rear Compatible for Honda Civic 1988-2000
Original price
$293.25
-
Original price
$293.25
Compatible Vehicles
Compatible For Honda Civic 1988-1991 EC ED EE EF Rear fork type bracket model only (EC8\EC9\ED2\ED3\ED4\ED5\ED6\ED7\EE1\EE2\EE3\EE4\EE5\EE9\EF1\EF2\EF3\EF4\EF5\EF9)
Compatible For Honda CR-X 1988-1991 ED EE EF Rear fork type bracket model only
(ED8\ED9\EE6\EE8\EF6\EF7\EF8)
Compatible For Honda Civic 1992-1995 EG EH EJ Rear fork type bracket model only (EG3\EG4\EG5\EG6\EG7\EG8\EG9\EH1\EH2\EH3\EH4\EH5\EH8\EH9\EJ1\EJ2\EJ3)
Compatible For Honda CR-X del Sol 1992-1995 EG (EG1)
Compatible For Honda Civic 1996-2000 EJ EK EM Rear fork type bracket model only (EJ5\EJ6\EJ7\EJ8\EJ9\EK1\EK2\EK3\EK4\EK5\EK8\EK9\EM1)
Compatible For Acura Integra 1994-2001 DC2 DC4 Rear fork type bracket model only
Note: for some vehiles, you will need sleeves and washers that already included in our package.

Part Number
171291R,171291L,171292
181291L,181291R,181292
11231,11232,15220
501712869L,501712919R,501712929,
9212-0002,9213-0001,9213-0003
7171291L,7171291R,7171292,
XS822119720,XS842119521,XS842119622
171946, 171945, 171266
5719463,2701256893,
5719456,2701256892,171266LR
51401SR0A02 51401SR0N02
51401SR2J41 51401SR2J51
51401SR3C01, 51401ST7N31
51601ST7972 51601ST8912
52611SH0A03 52611SH3G01
52611SH3N92 52611SR0N31 52611ST7A01
341136,341135,340008

Technical Specs
Quantity:
2 piece front + 2 pieces rear
2 Stainless Steel Wrenches
Spring rate Front :8kg/mm ​â€?448 lbs/in)
Spring rate Rear: 5kg/mm ​â€?280 lbs/in)
Adjustable damper: Non Adjustable Damper
Adjustable hight: Yes
Adjustable camber plate: No
Warranty: 1 year warranty for any manufacturing defect

Feature
* Adjustable ride height
* Adjustable pre-load spring tension
* Pillow ball top mount
* Most components are made from 6063 aluminum with T6 for increased hardness
* Hi Tensile performance spring
* All inserts come with fitted rubber boots to protect the damper and keep it clean.
* Improve your handling performance without sacrifice a comfortable ride.
* A fast and affordable way to easily upgrade your car's appearance.
* Easy installation with the right tools.
* Ideal for any track, drift, and fast road and can also be used for daily driving.

Attention
No instruction included; Professional installation & alignment suggested.
Please check our store for other auto parts you may be interested in.
Please feel free to contact us for whatever we can help with.