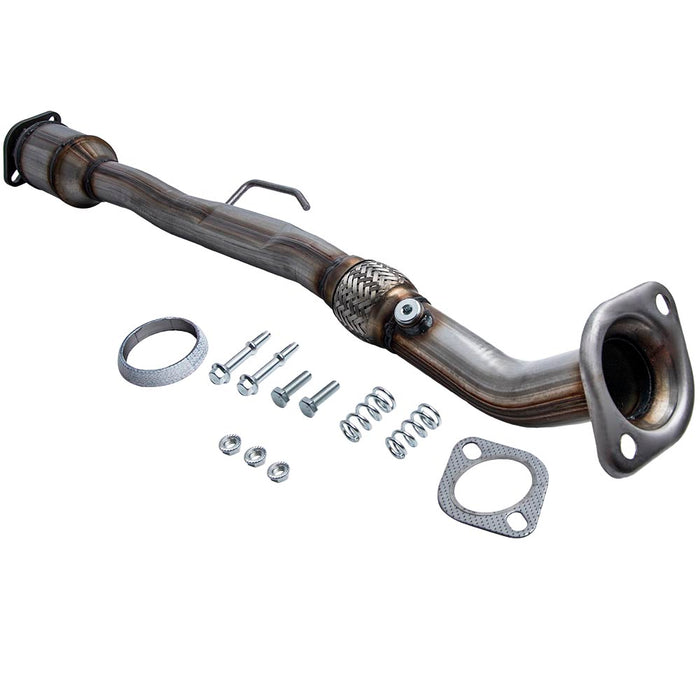 Flex Pipe W/ Catalytic Converter compatible for Nissan Altima 2.5L 2002-2004
Sold out
Original price
$117.30
-
Original price
$117.30
Compatible Vehicles
Compatible for 2002-2004,2006 compatible for Nissan Altima Base 2.5L L4 (2488cc) ;Â?/p>
Compatible for 2002-2006 compatible for Nissan Altima (submodel: S, SL) 2.5L L4 (2488cc)
OEM Number
40514, 18120, 54360
Packageï¼?Just like the first picture(including all the hardwares ï¼?/span>
Technical Specs
Catalytic converters can be damaged by road debris, contaminated by engine oil or coolant, or become clogged and restrict exhaust flow. It's time to relpace your catalytic converter when comes to the following symptoms
Among the symptoms of a bad catalytic converter are:
Sluggish engine performance

Reduced acceleration

Dark exhaust smoke

The smell of sulfur or rotten eggs from the exhaust

Excessive heat under the vehicle
A misfiring spark plug, faulty oxygen sensor, or other fuel or emissions-related problem can cause a catalytic converter to overheat.

Features
�100% Brand new
•Â?/span>Warranty:
Internal (converter substrate): 2 years or 25,000 Miles
External (converter housing assembly): 5 years or 50,000 Miles
�High flow design to provide more oxygen to your engine for an increase in power and performance.
�Fully tested under extreme condition for heat resisitance and long-life use.
•Â?span data-mce-fragment="1">EPA Compliant

Attention
* Not legal for sale in California. If your vehicle is registered in California, do not purchase this part. If your vehicle meets California requirements, but is not registered in California, this converter will work on your vehicle.
* Quality fully guaranteed and professional installation recommended.
* Please check the fitment detail and OEM number before purchasing, thanks!