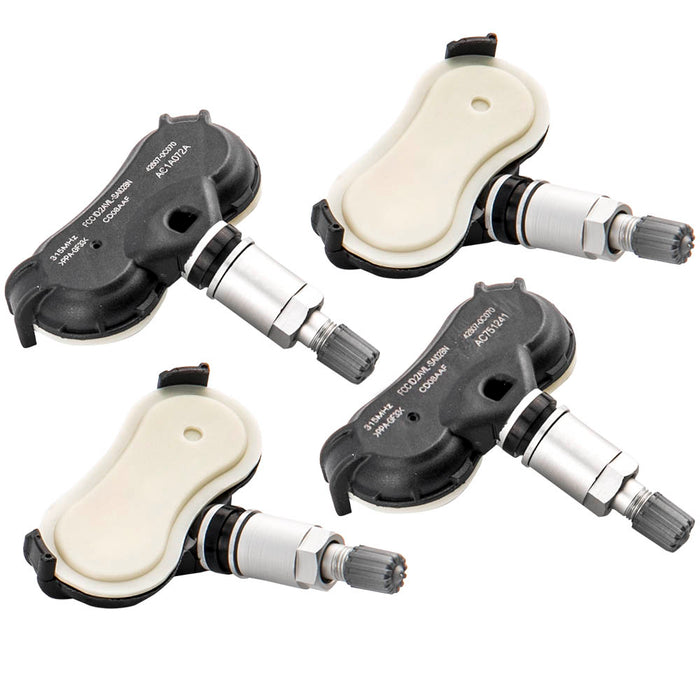 Tuningsworld Tire Pressure Sensor Compatible for Toyota Sequoia 2008-2019
Sold out
Original price
$58.65
-
Original price
$58.65
Compatible Vehicles
Compatible for Toyota Sequoia 2008-2019
Compatible for Toyota Sienna 2006-2019
Compatible for Toyota Tundra 2006-2019

Part Number
42607-0C050,42607-0C030,42607-08010,42607-0C070

Technical Specs
Color: Black
Warranty: 1 Year
Condition: New
Package Include: 4 x Tire Pressure Sensors
Frequency: 315 MHz

Feature
* 100% brand new 4 Pcs Tire Pressure Sensor.
* Made of high-quality material, ensuring high durability for long-time use.
* Professional manufacturing, high accuracy, and reliability.
* High level of accuracy and sensitivity, enhance the safety of your vehicle.
* Fit both the front wheels and the rear wheels, left and right sides.

Attention
* Please calibrate your Sensor after install
* Please confirm your original part number or oem numbr can matche up with one of the part numbers above
* Professional installation is highly recommended (No Instruction Included)
* For whatever we can help, please feel free to contact us

Notice
1. Tire pressure sensors maybe require programming or "re-learning" before they will become activated or recognized by the vehicle upon installation. Please check your owner's manual for details on this process specific to your vehicle.
2. The sensors were not coming with any nuts or bolts.

Installation Process
1. Loosen the tire: Remove the valve cap and core and deflate the tire.
2. Dismount the tire: Clamp the tire onto the tire changer, and adjust the valve at 1 o'clock relative to the tire separation head. Insert the tire tool and lift the tire bead onto the mounting head to discount the head.
3. Dismount the sensor: With a screwdriver remove the fastening screw and sensor from the Valve stem, then loosen the nut and remove the valve.
4. Mount sensor and valve: Slide the valve stem through the valve hole of the rim. Tighten the screw-nut with 4.0 Nm with the help of the positioning pin. Assemble the sensor body against the rim and tighten the screw.
5. Mount the tire: Place the tire on the rim, making sure that the valve faces the separation head at an angle of 180 degrees. Mount the tire over the rim.