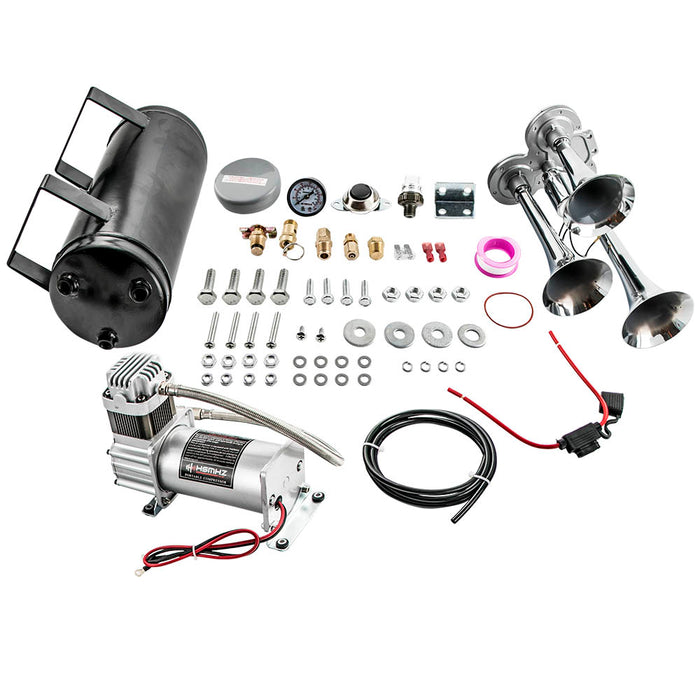 Tuningsworld Train Horn Kit Compatible for Truck/Car/Pickup Loud System
Sold out
Original price
$206.00
-
Original price
$206.00
Technical Specs
Air Horn
Dimensions:
Overall: 13-¾" L x 6-½" W x 7-½" H
Trumpets: 12" L, 10" L, 7-1/5" L x 3-¾" D
12V Electric Air Valve
¼" OD Nylon Plastic Hose (6 Feet)

Air Tank
Capacity: 1.5 Gallon (6 Liter)
Pressure Rating: 150 PSI, max 200 PSI
6 Ports: 6 x ¼" NPT
Included with this kit:
1.5 Gallon Air Tank
240 PSI Air Pressure Gauge
120-150 PSI Pressure Switch
175 PSI Safety Valve

Air Compressor
Dimensions: 10-¾" L x 4" W x 6-¾" H
12V Permanent Magnetic Motor
Duty Cycle: 100% 100 PSI
Amperage Draw: 23A
Flow Rate: 1.7CFM 0 PSI
¼" NPT Stainless Steel Braided Leader Hose

Horn Button
Dimensions: 15" L x 7-½" H x 5-½" Diameter
12mm Thread Sealant Tape (16 Feet)
¼" NPT Wing Style Drain Valve
¼" NPT Compression Fitting for ¼" OD Air Line
¼" NPT Hex Head Male Plug
¼" OD Nylon Plastic Hose (6 Feet)
Mounting Hardware

Feature
Condition: 100% new
Warranty: 12-month Warranty

Attention
-It is an aftermarket tool, it serves as a replacement for the original parts
-Instructions are not provided. We recommend a professional installation.
-If you have any questions, please feel free to contact us.