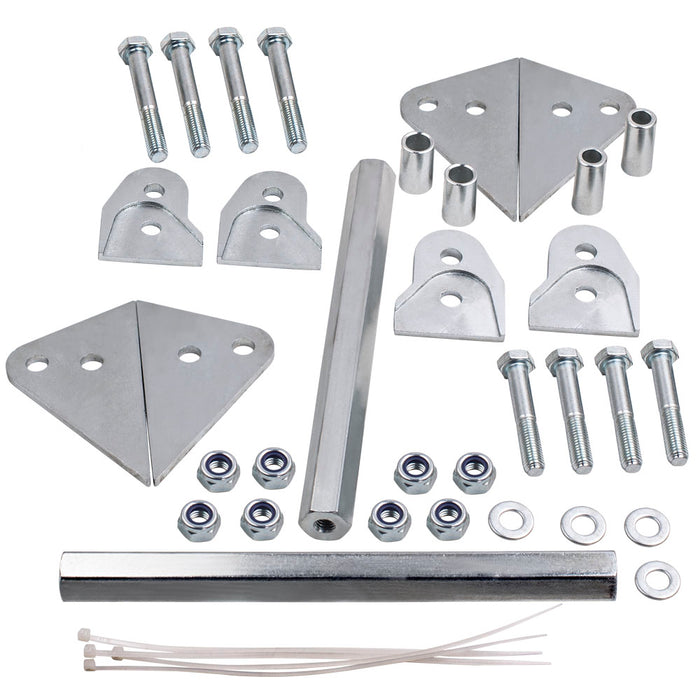 Tuningsworld 2" Lift Kits Compatible for Polaris Sportsman 850/SP 850, Sportsman X2 550/850
Original price
$34.50
-
Original price
$34.50
Application
Compatible for Polaris Sportsman 850 2016
Compatible for Polaris Sportsman 850 SP 2016
Compatible for Polaris Sportsman 1000 XP 2016
Compatible for Polaris Sportsman 850 Touring SP 2016
Compatible for Polaris Sportsman 1000 XP Touring 2016
Compatible for Polaris Scrambler 850 2016
Compatible for Polaris Scrambler 1000 XP 2016
Compatible for Polaris Sportsman 850 2022
Compatible for Polaris Sportsman 850 Premium 2022
Compatible for Polaris Sportsman 850 Touring 2022
Compatible for Polaris Sportsman 1000 XP Touring Trail 2022
Compatible for Polaris Scrambler 850 2022
Compatible for Polaris Sportsman 850 2023
Compatible for Polaris Sportsman 850 Premium 2023
Compatible for Polaris Sportsman 850 Touring 2023
Compatible for Polaris Sportsman 850 EPS 2011
Compatible for Polaris Sportsman 850 EPS 2010
Compatible for Polaris Sportsman 850 2011
Compatible for Polaris Sportsman 850 2010
Compatible for Polaris Sportsman 850 2009
Compatible for Polaris Sportsman 850 X2 EFI 2011
Compatible for Polaris Sportsman 550 XP EPS 2011
Compatible for Polaris Sportsman 550 XP 2010
Compatible for Polaris Sportsman 550 X2 EFI 2011
Compatible for Polaris Sportsman 550 X2 EFI 2010
Compatible for Polaris Sportsman 550 EPS 2010
Compatible for Polaris Sportsman 550 2011
Compatible for Polaris Sportsman 550 XP 2009
Compatible for Polaris Sportsman 850 EPS 2012
Compatible for Polaris Sportsman 850 2012
Compatible for Polaris Sportsman 550 X2 EFI 2012
Compatible for Polaris Sportsman 550 EPS 2012
Compatible for Polaris Sportsman 550 2012
Compatible for Polaris Sportsman 850 2013
Compatible for Polaris Sportsman 850 EPS 2013
Compatible for Polaris Sportsman 550 2013
Compatible for Polaris Sportsman 550 EPS 2013
Compatible for Polaris Sportsman 850 Touring EPS 2013
Compatible for Polaris Sportsman 550 Touring EPS 2013
Compatible for Polaris Scrambler 850 2013
Compatible for Polaris Scrambler 850 EPS 2013
Compatible for Polaris Sportsman 550 EPS 2014
Compatible for Polaris Sportsman 850 2014
Compatible for Polaris Scrambler 850 2014
Compatible for Polaris Sportsman 850 Touring EPS 2014
Compatible for Polaris Sportsman 550 Touring 2014
Compatible for Polaris Scrambler 1000 XP EPS 2014
Compatible for Polaris Sportsman 850 2015
Compatible for Polaris Sportsman 850 SP 2015
Compatible for Polaris Sportsman 1000 XP 2015
Compatible for Polaris Scrambler 850 2015
Compatible for Polaris Scrambler 1000 XP 2015
Compatible for Polaris Sportsman 850 Touring SP 2015
Compatible for Polaris Sportsman 1000 XP Touring 2015
Compatible for Polaris Scrambler 1000 XP EPS 2017
Compatible for Polaris Scrambler 850 2017
Compatible for Polaris Sportsman 1000 XP Touring 2017
Compatible for Polaris Sportsman 850 2017
Compatible for Polaris Sportsman 850 SP 2017
Compatible for Polaris Sportsman 850 SP EPS 2017
Compatible for Polaris Sportsman 850 Touring SP EPS 2017
Compatible for Polaris Sportsman 850 Touring SP 2018
Compatible for Polaris Sportsman 1000 XP Touring 2018
Compatible for Polaris Scrambler 850 2018
Compatible for Polaris Scrambler 1000 XP 2018
Compatible for Polaris Sportsman 850 Touring 2020
Compatible for Polaris Sportsman 1000 XP Touring 2020
Compatible for Polaris Scrambler 850 2020
Compatible for Polaris Sportsman 850 2021
Compatible for Polaris Sportsman 850 Premium 2021
Compatible for Polaris Sportsman 850 Touring 2021
Compatible for Polaris Sportsman 1000 XP 2021
Compatible for Polaris Sportsman 1000 XP Touring 2021
Compatible for Polaris Scrambler 850 2021
Compatible for Polaris Sportsman 850 Trail 2021
Compatible for Polaris Sportsman 1000 XP Trail 2021
Compatible for Polaris Sportsman 1000 XP Premium 2020
Note:
This kit is for straight rear arms. Not for rear arched control arms.
Specification
Lift Amount: 2"
Install Time: 3 hours
Largest Tire: 29.5" and 31" with trimming of fender
Package included: 
Front Lift Bracket x 4
Rear Left Bracket x 2
Rear Right Bracket x 2
Rear Sway Bar Bracket x 2
Installation Hardware
Feature
-Improve ride quality and driving vision.
-Made of high-quality solid steel, with better durability and firmness.
-Accurate measurement and Computer-aided design to ensure perfect fit.
-Easy to install, no drilling is required.
Note
Rear factory upper A-Arm modification REQUIRED if running larger aftermarket axles.
This lift kit DOES fit any Sportsman or Scrambler models with or without Fox, Walker Evans, or any brand of reservoir shocks.