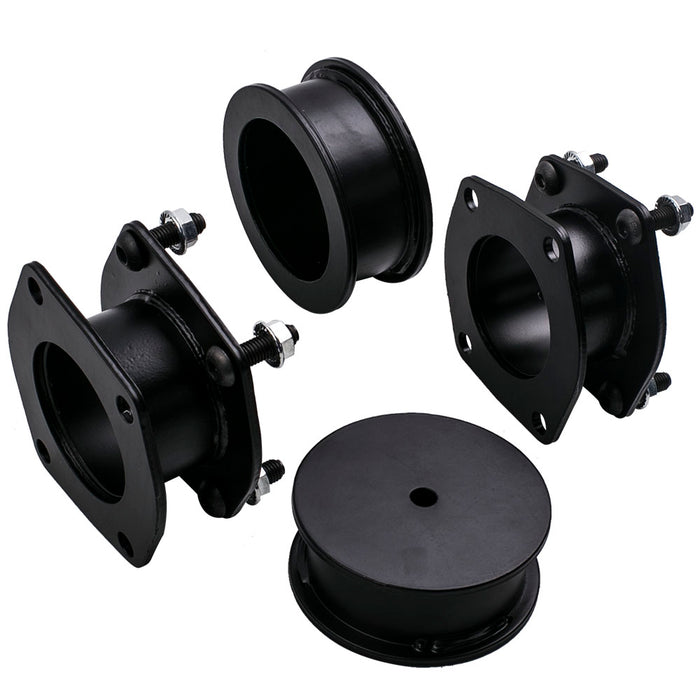 Tuningsworld Compatible for Jeep Cherokee 2" Lift Leveling Kits, Compatible for Jeep Grand Cherokee WK 4WD/2WD 2005-2010 and Jeep Commander 4WD/2WD 2006-2010
Original price
$55.20
-
Original price
$55.20
Application
2005-2010 Compatible for Jeep Grand Cherokee WK  4x2 / 4x4
2006-2010 Compatible for Jeep commander 4x2 / 4x4
Package Includes
2 Front Spacers
2 Rear Spacers
Bolts and Screws as pictures show
Features
* Special powder coating treated Spacers, anti-corossion
* The suspension on this vehicle requires a spacer that is not a 1:1 ratio
* ThereCompatible fore the advertised height is achieved after install, not the height of the spacer itself
* This kit will allow you to fit larger tires. Allows clearance Compatible for up to 32" tires
* Longer shocks not necessary - reuses your stock springs and shocks.
* Comes completely with all necessary hardware Compatible for install
* Easy to Install, Do not need extra spring compressor
Note
The suspension on this vehicle requires a spacer that is not a 1:1 ratio. According to the length of the lower control arm and the position where the control arm is installed, a higher height than the actual thickness of the gasket is provided. the advertised the height is the spacer itself height,not the height of the achieved after install.
-Professional installation is recommended.
-We have a video of product installation instructions, you can contact us if you need this video.