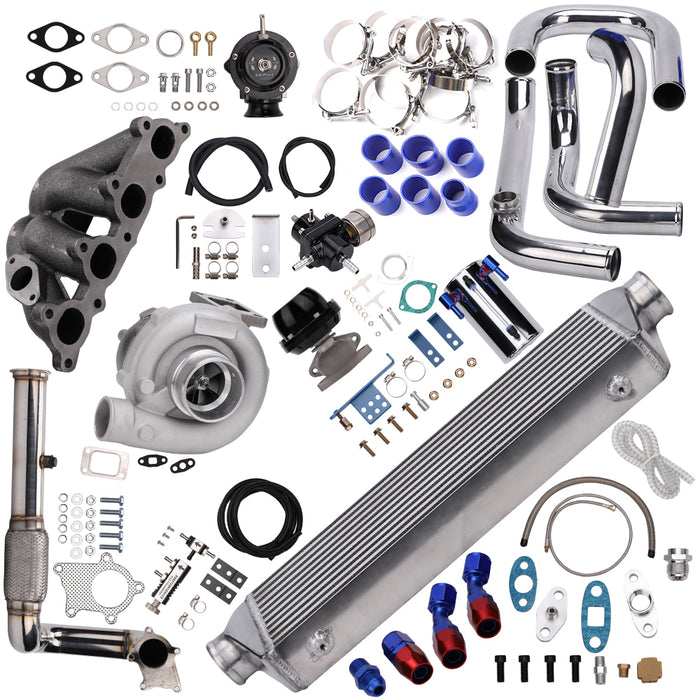 Turbo Kit for D Series Compatible for Honda Civic Tuningsworld Turbo Kit Turbocharger
Sold out
Original price
$922.30
-
Original price
$922.30
Compatible Vehicles

Compatible for Honda Civic VX 1.5L SOHC VTEC-E I-4 92HP D15Z1  92-95
Compatible for Honda Civic DX/LX 1.6L SOHC I-4 106HP D16Y7 96-00
Compatible for Honda Civic HX 1.6L SOHC VTEC-E I-4 115HP D16Y5 96-00
Compatible for Honda Civic EX 1.6L SOHC VTEC I-4 127HP D16Y8 96-00
Compatible for Honda Civic CX 1.5L SOHC I-4 70HP D15B8 92-95
Compatible for Honda Civic DX/LX 1.5L SOHC I-4 102HP D15B7 92-95
Compatible for Honda Civic EX/Si 1.6L SOHC VTEC I-4 125HP D16Z6 92-95
Compatible for Honda CRX DX 1.5L SOHC I-4 92HP D15B2 88-91
Compatible for Honda CRX HF 1.5L SOHC I-4 70HP D15B6 88-91
Compatible for Honda CRX Si 1.6L SOHC I-4 108HP D16A6 88-91
Compatible for Honda Del Sol S 1.5L SOHC I-4 102HP D15B7 93-95
Compatible for Honda Del Sol Si 1.6L SOHC VTEC I-4 125HP D16Z6 93-97
Compatible for Honda Del Sol S 1.6L SOHC I-4 106HP D16Y7 96-97
Technical Specs
T3/T4 Hybrid Turbo Charger:  
Turbocharging: 450hp
Inlet: 3inch, outlet: 2 inch
Hybrid Journal Bearing
Oil inlet size: m10x1.25
exhaust flange: 35mm and 38mm
Pressure shell a / R value: 50 A / R
Impeller: Exd 3 " ;  ind 1.99"
Volute: 0.63 A / R
Turbine: Exd 2.2 "; ind 2.56"
5 Bolt Stand Side
Intake manifold:
Material: Cast Iron
Inlet diameter: 38mm
With gasket (the first batch of goods, without gasket)
Intercooler
Material: Aluminum
Overall size: 27x7x2.5" 
Core size: 21 "X5.5" x2.25"
Inlet diameter: 2.5"
Exhaust diameter: 2. 5" 
Intercooler pipe:
Pipe diameter: 2.5¡°
4 X aluminum tube
6 X silicone tube
13 X T-type buckle
Fuel pipe
Material: 24" AN 10 long pipe (stainless steel hose)
other accessories: Aluminum
Oil return pipe:
Material: long pipe (stainless steel hose) An3
Wastegate:
Material: aluminum alloy
Diameter: 38mm
Bov valve:
Material: aluminum alloy
Pressure controller:
Material: aluminum alloy + hose
Sump tank:
Material: aluminum alloy
Tank length: 6 inch
Tank diameter: 3.25 inches
Hose length: 30 inch
Hose inner diameter:9mm
Fuel pressure regulator
Material: aluminum alloy + hos
Condition: 100% Brand New
Warranty: 1 Year
Package Include
1x T3/T4 Turbocharger
1x Manifold
1x Downpipe (header)
1x Intercooler
1x Intercooler pipe
1x Fuel pipe
1x Oil return line
1x Wastegate
1x Pressure controller
1x Sump tank
1x Fuel pressure regulator
You will get exactly as shown in the picture
Attention
- Please double confirm before ordering.
- No instruction included; Professional installation and alignment suggested.
- Please check our store for other auto parts you may be interested in.
- For any needs please contact us.